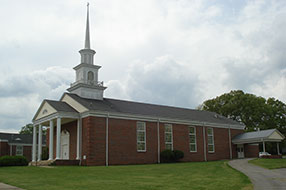 Highland was formed in 1950 and celebrated our 60th year in 2010.
Our Child Development Center celebrated it's 40th year in 2010.
We are affiliated with the Southern Baptist Convention, the Tennessee Baptist Convention and The Duck River Baptist Association.

The Church is dedicated to serving the Lord Jesus Christ in  Worship, Evangelism, Fellowship, Discipleship and Ministry.
Located at:  808 W Hickory St.,  Tullahoma TN  37388
Phone: 931-455-0645
Weekly Services:  
Sunday:  
9:15 AM    –  Bible Study for all ages
10:30 AM   –  Worship Service
5:00 PM   –  Discipleship Training
6:00 PM   –  Evening Worship
Wednesday:
5:00 PM- Meal
5:45- 7:15 PM- AWANA
6:15 PM- Prayer Meeting and Bible Study
7:05 PM Adult Choir
Nursery Provided during services